When you start to become truly aware of how judgemental you may be (and often, not kindly) towards yourself and others, a whole new world opens up.
A world of joy.
But that deep, peaceful joy only happens as you begin practicing self nurturing and self love. For many years I didn't know the difference. Because I meditated, exercised, practiced Tai Chi, had a healthy diet and spent a great deal of time quietly in nature and around animals, I thought my self love was pretty strong. Turns out it wasn't.
I prided myself on the fact that I'd learnt to say no to things (and people)  I didn't feel good about and that (I thought) I had strong boundaries.  I didn't drink alcohol, smoke or eat junk food. I had fun,  laughed a lot, spent time with good friends, listened to music and danced, went to the beach daily, played with the dogs, snuggled up with the cats and read a book - in other words, did plenty of the recommended things required for great physical and mental health.
So why did I get so sick?
I'd had various debilitating illnesses from early childhood onwards but it all became unmanageable in my 50's when I was diagnosed with ME/CFS, fibromyalgia and (later called) Lyme Disease. My life changed radically when I had to stop working, could no longer exercise or socialise and my days were spent mostly in bed or on the couch, dreadfully sick, completely exhausted and in horrid pain. This was my reality for around seven years.
I thought I'd beat it by upping my meditation practices to longer sessions, visualising myself well and running along the beach with the dogs, saying countless affirmations and going on detox cleansing diets. I regulary thought my attitude just wasn't 'good enough', so I strived to better it.
I consulted with and had treatment from, naturopaths, herbalists, acupuncturists, medical practitioners and specialists, chiropractors, osteopaths, nutritionists, psychologists and various other people offering natural healing modalities.  I was myself,  a qualified Tai Chi instructor, counsellor, meditation and relaxation teacher and Reiki master of over 20 years.
So why the hell didn't I get better was a question I often asked myself. What was wrong with me? What was I doing wrong and what wasn't I getting right? So much self condemnation, even in my time of need! I was ashamed to be ill and I punished myself for it.
In October 2013, after reading a book by a woman who had similar health issues (to me) and was now well again, I had some sessions with a Practitioner of Mickel Therapy and the answers to my questions started to come - with a clarity that brought better health immediately. Saul Levitt, my wonderful Practitioner, had recovered from the same illness and later became a qualified practitioner and trainer in Mickel Therapy. He gently allowed me to learn how I'd rarely put my own needs first (despite thinking I had) and how I'd become good at brushing over my feelings, getting rid of them as quickly as I could. For the first time in my life, I started to realise how little I loved and appreciated myself. It was sad but exhilarating at the same time.
If you'd asked me prior to doing Mickel Therapy with Saul - I would have sworn I knew all about self love but it turns out I only had it partially 'right'. I had the self care bit going ok but I was still hard on myself and every time I thought I wasn't doing well enough (which was often!), I beat myself up, criticised myself harshly and pushed myself to do better. I spouted phrases like 'it's about progress, not perfection' but I didn't have a clue how to embrace that in my own life.
My brain was conditioned to strive and fight, be perfect, be there for everyone else, be disciplined, be super responsible and create suffering for myself. Wendy The Warrior. Always there for others, rarely there for myself. I felt inadequate and therefore believed I didn't matter.
I've come a long way in the four years since that first session with Saul. I'm fully embracing Mindfulness these days (which is quite different from my past meditation practices and I find it much more beneficial) and everything I'm doing is about gently loving and appreciating myself before I extend that outwards.
It's a joyful experience to practice loving kindness towards others if you have the awareness to show that love and kindness to yourself first - without judgement.
I'm more at peace than I've ever been as Every Day Gets Better.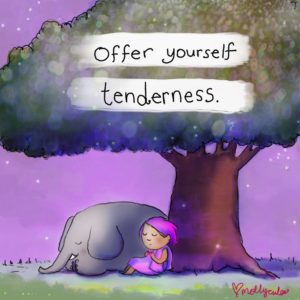 I invite you to read this book to help you to live with more joy in your life.
http://www.everydaygetsbetter.com/lovingkindness
With thanks to Molly of Buddha Doodles for the beautiful pic. ❤️